Ian Sage
Week 15 Value Fanduel Picks
Week 15 Value Fanduel Picks
Weird week in the NFL, there are 3 NFL games this Saturday, so all the prices will reflect every game from Saturday-Monday a total of 15 games. Let me go over some important information so you are fully aware of what this article's purpose is. We use Fanduel for our daily fantasy plays, Draft Kings will be close to this information but could be different. Fanduel gives every person a budget of $60,000 for 9 total roster spots, 1 QB, 2 RB, 3 WR, 1 TE, 1 Flex, and 1 D/ST. This leads you to an average of $6,667 per roster spot. In this article, I will be giving you 1 player from each position that I believe is the best value of the week. I will do my best to keep it under $6700, except QB. The main purpose is to not pick every single guy from this list for your team; I don't think that would be an optimal team. These players will save you money so you can go get the high priced players you really want somewhere else.
QB
Most Expensive: Patrick Mahomes $9,100
My Pick: Mike White $7,000
Backup pick if White has a setback and cant play: Matt Ryan $6,900
Mike White has been QB 10 overall since he started in week 12 and is currently listed as the QB 16 on Fanduel behind Russel Wilson. White faces a Lions defense which is allowing the most fantasy points to opposing QBs this year. They allow the third most passing yards and the 5th most passing TD's overall. The Lions defense is more of a suggestion than a force this year and White has enough talent around him to put up solid numbers. White can finish top 5 this week which is a steal considering there are 15 other QB's more expensive than him.
RB
Most Expensive: Josh Jacobs $9,200
My Pick: Jerick Mckinnon $6,200
The Texans are very bad defensively and allow the most points to RB's per game this season. Mckinnon is the 2nd option behind Pacheco but can still see valuable touches. Last week, Mckinnon was a huge play with 2 TD's and 7 receptions to go along with 112 receiving yards. Mckinnon is the passing down back and can see some good usage again this week. This should be a blow out, and that usually means more touches for the backs lower on the depth chart. Don't be surprised if he finishes with 14+ carries too.
WR
Most Expensive: Justin Jefferson $9,100
My Pick: Joshua Palmer $6,500
Palmer is a big play kind of player, and that Titans give up a significant amount of big plays to the WR position. The Titans have allowed the second most passing yards per game and the second most passing TD's as well. Palmer is the third option, but he still sees a significant amount of targets even with all the talent surrounding him. Palmer instantly steps up into WR2 territory when either Mike Williams or Kennan Allen become sidelined, and if Mike's ankle is still bugging him, I need Palmer this week to catch the 50 yard bomb.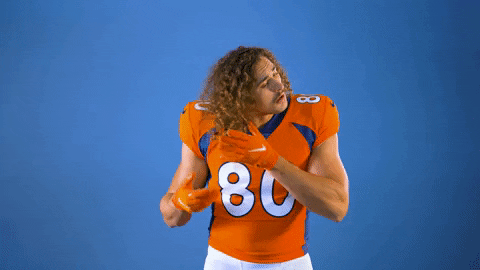 TE
Most Expensive: Travis Kelce $8,000
My Pick: Greg Dulcich $5,600
Since week 6, when Dulcich officially started, he has been TE10 with 5 out of 8 weeks finishing in the top 12. Dulcich has a prime opportunity this week going against the worst ranked Cardinals against the position. The Cardinals give up the most yards, receptions, and TD's to TE's this season. The only team that hasn't performed well this year VS. The Cardinals are the Panthers who employ Ian Thomas and Tommy Tremble who I would vote for are not as big of threats as my boy Dulcich here. Ride the wave of the Cardinals being bad as they will continue to be.
DEF
Most Expensive:Kansas City Chiefs $5,000
My Pick: Denver Broncos $3,700
Colt McCoy is the new starter for the Cardinals, and the offense struggles when he plays. With Colt McCoy, the Cardinals averaged 16.667 points per game and just 311 total offensive yards. On top of that, the offense only averages 1.7 touchdowns with him at the helm. He also has and interception in 2 out of the 3 games he's played in this season. The Broncos are equipped to prevent bad teams from scoring just as much as they are equipped in preventing themselves from scoring. The Broncos will have a solid game plan, and this cardinals offense will be unable to get any passing game started to be a factor this week.
Totals
Most Expensive picks: $40,400
$8,080 per player
$19,600 remaining for 4 players
My Picks: $29,000
$5,800 per player
$31,000 remaining for 4 players